Windows Live SkyDrive is a nice services to store, access, and share files, photos with others. It offers 25GB free, safe and fast Cloud Storage.
But when we download a large number of files from other friends's SkyDrive , we have to Click ->Save and and then Click ->Save … It is so tiring!
SkyDrive Easy Download is a Free software tool to help you to Batch download it.
HOW TO: Copy and paste the SkyDrive URL or resid to the input field, Click Get File List, then Check some files, at last Click Start.
Software Name: SkyDrive Easy Download
Author Site: http://xwjie.com
Software Site: http://xwjie.com/post/skydrive-easy-download.html
Operating system: Windows XP/2003/Vista/2008/7
Author Email: gdouxwj#gmail.com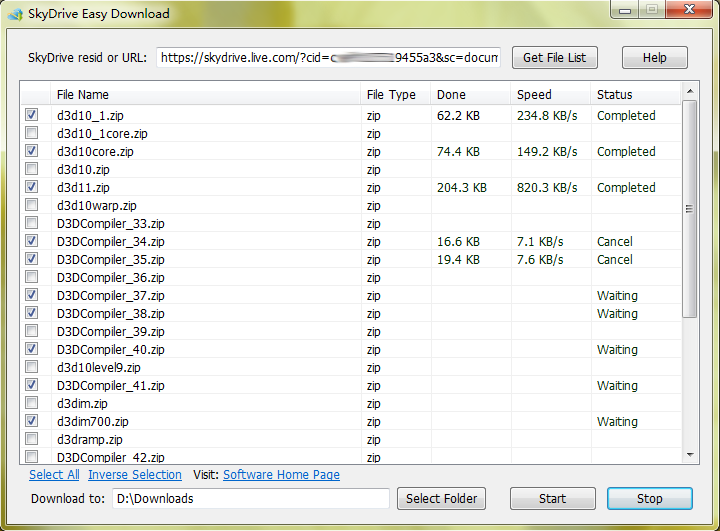 Download SoftWare:
SkyDrive Easy Download v1.2 (en)
SkyDrive Easy Download v1.2 (en)(For multi-language translators) (Include a xml file so you can translat the GUI to your Language)
BUG Reporting: Leave a Comment or Email to: gdouxwj#gmail.com
If you find the software is useful and you want to encourage the development of  it, you can do it by donating .( via
)
Windows Live SkyDrive 是一款有密码保护的25G超大网络硬盘,您可以随时随地存取文件。同时,也可以让您与您的朋友、同事或家人一起在共享文件夹中添加或更新文件,轻松共享生活信息。
当时当我们下载别人的 SkyDrive 文件的时候,我们不得不一次次的点击->保存,点击->保存,这是件非常枯燥的事情是吧?
SkyDrive Easy Download 就是一个用来解决这个问题的免费软件,它提供批量下载功能,只要复制URL到本软件 -> 点击"获取文件列表" -> 勾选文件 -> 选择文件下载到的文件夹(可保持默认不改) -> 点击"开始" ,接下来就轻松的等待吧。
软件英文名:SkyDrive Easy Download
软件中文名:SkyDrive 批量下载器
官方网站:http://xwjie.com
软件主页:http://xwjie.com/post/skydrive-easy-download.html
操作系统:Windows XP/2003/Vista/2008/7
作者邮箱:gdouxwj#gmail.com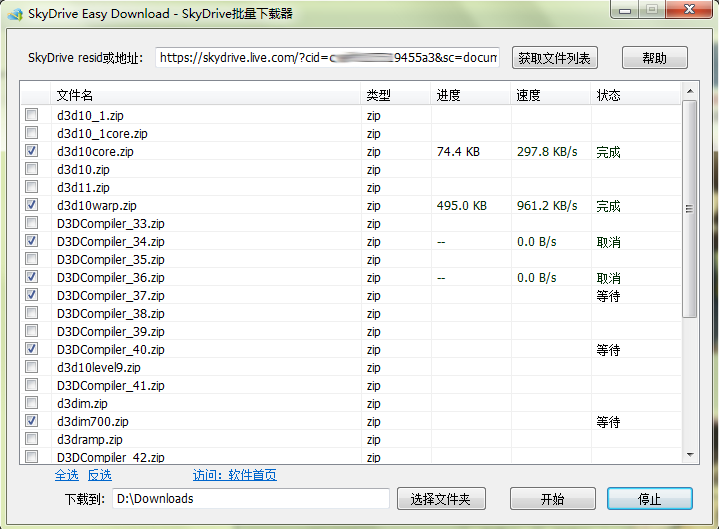 软件下载:
SkyDrive Easy Download v1.2 (简体中文)
SkyDrive Easy Download v1.2 (繁體中文) (術語可能不符合台灣語習慣,歡迎留言指出)
SkyDrive Easy Download v1.2 (en)(For multi-language translators) (带有一个可翻译的xml文件以便于本地化GUI)
报告BUG请留言或者Email:gdouxwj#gmail.com